News
#V-News: Hotel V Bike tours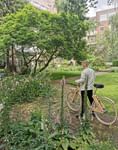 Amsterdam is more than just the crowded and busy city centre. Hotel V bike tours brings you to a different part of Amsterdam that you might not be able to find on your own. Meet locals, get inspired and learn about the secret stories. You will cycle around the city with stops at remarkable places and neighborhoods, as Watergraafsmeer and Amsterdam east, which are full of history, architecture, art and lifestyle. Our guide, Dylan will tell you the secret stories and show you the hidden places of Amsterdam. Get ready to feel like a real Amsterdammer.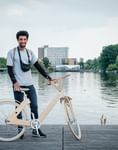 Meet Dylan, 25 years old, born and raised in Amsterdam.

"Ever since I was a little boy I have been running around with a football and it was my dream to become a professional soccer player. Partly due to a series of knee injuries and surgeries
I have not been able to make this dream reality. My orthopedist recommended cycling for a speedy rehabilitation from my injuries. I ended up touring through Amsterdam and its surrounding areas on my racing bike.
This is how I found my new hobby: cycling

When I discovered my love for cycling, I started to drag my friends and family with me and their responses were amazing! This is when I thought to myself: why not organise bike tours in the city that I hold so close to my heart, Amsterdam!
I began writing down more cycling routes through the city, reading about the the history of Amsterdam and started to organise bike tours for tourists and companies.

My goal is to offer people an unforgettable experience by connecting with locals and sharing the cool and local spots you probably would not find on you own.

Let's cycle away with an extra big smile!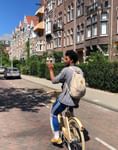 Hotel V Bike tours at Hotel V Fizeaustraat

- 50 euro per person (including bike)
- From Sunday-Monday
- Starting at 10 AM
- 2,5 hour
- minimum 2 persons, maximum 6 persons
- Snacks included
- Language English, Dutch
(Spanish, Greek on request)
- Polaroid shot by Dylan to take home as a souvenir

For bookings send an email to stay@hotelv.nl